Staff Accountant
Accounting Tax Services Department
Position Staff Accountant
Posting Date January 15, 2018
Employment Full time
City Cleveland - Beachwood, OH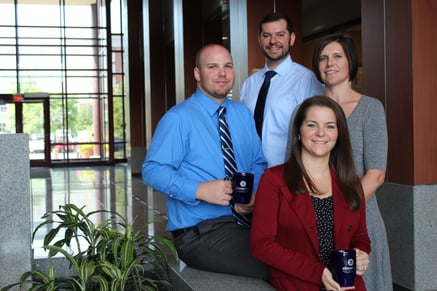 Zinner & Co., named one of the Best Accounting Firms to Work For by Accounting Today magazine, has an outstanding opportunity for a top-notch candidate to join our Accounting and Tax Services team as a Staff Accountant.
You will join a growing team of CPAs who create solutions and strategies for clients, helping them build their business while adding depth to your career. We offer a collaborative mentoring and enrichment program designed to help you grow and thrive in your career. You will also work with all levels of the firm including the partner group and staff.
Summary of Responsibilities
The Staff Accountant performs a wide variety of diversified accounting and tax assignments under the supervision of other accounting and tax service professionals. Performance judged based on the quality of work, application of accounting and tax knowledge, ability to provide clear and concise communications, and ability to meet time constraints. Displays professional conduct and confidence in the presence of staff and clients.
Essential Functions
Performs diversified accounting and tax assignments under direction of senior, supervisor, manager, or partner

Works as part of a client service team participating in planning of client engagements

Prepares workpapers and performs various procedures established under generally accepted accounting principles (GAAP) or other comprehensive basis of accounting (OCBOA) to verify accuracy and validity of client's financial records

Assists in proposal development and research gathering as requested

Participates in intern recruiting and campus career and accounting fair representation

Contributes to blog and article topics as requested

Represents firm at networking events
General Accounting
Prepares journal entries and supporting schedules for month-end and year-end closings

Performs bank reconciliations

Reconciles assigned accounts at period-end and prepares backup documentation
Provides support to management for special projects and directives

Prepares monthly, quarterly and annual financial statements

Works with Senior Accountants to ensure timely reporting and period-end close
Tax Reporting and Compliance
Prepares basic to more complex federal, state and local personal and business tax returns

Analyzes IRS notices and drafts responses
Prepares sales tax and payroll tax reports
Prepares support for all required tax returns

Collaborates with other staff members to obtain information for completing tax returns
Competencies

Demonstrates competence in technical skills, work quality, and application of professional and firm standards. Takes ownership of projects and tasks

Meets time constraints, client deadlines and tax compliance deadlines

Contributes to the client service team by producing quality work with quick turnaround and attentive service to clients and staff

Communicates with clients as needed to complete the engagements with a minimum of client disruption

Maintains contacts with peers and begins to develop a network of business contacts

Performs the broadest range of accounting tasks so that direct participation of supervisors, managers, or partners is kept to a minimum

Prepares various other reports, projects, and duties as assigned

Seeks to gain knowledge of client businesses

Client-focused and able to effectively manage multiple tasks
Develops and maintains an excellent working relationship with all levels of client staff to increase client satisfaction and to strengthen client relationships

Complies with the highest degree of professional standards, professional conduct, client confidentiality and personal conduct

Assists with training and mentoring junior associates and interns on accounting and tax methods
Qualifications
One to two years' experience in public accounting

Bachelor's degree (or higher) in accounting or a related program

Either holds CPA license or is working toward it

High level of proficiency in Adobe products and in Microsoft Office, including Excel, Word, Outlook and PowerPoint

Previous accounting or tax internship experience beneficial but not required

Effective oral and written communication skills
Our culture is rooted in client service; our spirit is philanthropic. We support our employees' humanitarian efforts and join together outside the office through participation in community events, charitable initiatives, and goodwill. We envision our ideal candidate as one who is the change agent that not only empowers our clients, but also the world.

Zinner & Co. is conveniently located in Beachwood, Ohio, off I-271 at the Chagrin Blvd. exit. We offer a competitive salary and benefits package with many opportunities for professional development. Our open, bright and modern layout, comfortable collaboration areas, and technologically advanced office space will greet you each day.

For confidential consideration, please submit your resume and cover letter below: