The I-9 Form updated 7/17/17 must be used for all new hires starting today, 9/18/17. The form can be found on the U.S. Citizenship and Immigration Services' (USCIS) website at https://www.uscis.gov/sites/default/files/files/form/i-9.pdf.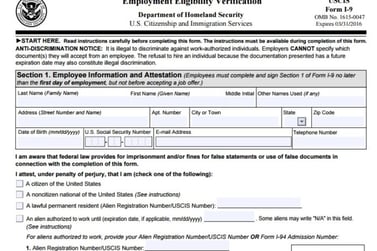 Related read: What to know if you are planning to hire in the coming weeks
The most noticeable change is the listing of acceptable documents in column/list C of page 3. Although the changes in this revision may seem insignificant, all employers must begin using the form today for all new hires; failure to do so will likely result in fines if your organization is selected for audit.
Remember, employers are not permitted to tell employees which documents they should provide for identification and employment authorization purposes. Rather, you should present them with the complete I-9 form and point to page 3, explaining that they can present one document from column A, or, one document from column B AND one document from column C. Make sure they understand that you need to see original documents, not photocopies.
If you have any questions about the use of this form in your employment practice, contact us. We're happy to help and ready to start the conversation. Email info@zinnerco.com or 216.831.0733.