Selecting a firm to conduct your not-for-profit's audit services can feel like a daunting task. There are hundreds of firms online and most (if not all) claim to perform not-for-profit audit services.. How can you know which audit firm is the right for your Organization?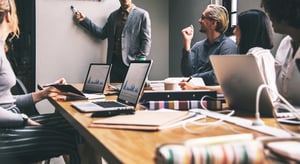 Selecting the right audit firm is like creating a long-term relationship with a partner that is dedicated to helping your organization fulfill its mission. Selecting the wrong firm can feel like trying to swim with a 500 lb. weight strapped to your back.So how can you be sure you are selecting the best fit for your needs? Here are 10 things to look for in a not-for-profit audit firm that will help you know you are on the right track:
Experience – One of the most important attributes of a great audit firm is their wealth of experience, specifically with non-profits. Ideally, the firm will have involvement with organizations that are similar in size and type to yours.


Credentials - In order to have your audits recognized as valid, audit services must be performed by a Certified Public Accountant (CPA) firm. The firm should be in good standing with the state(s) and national associations of CPAs, as well registered with the state(s) Board of Accountancy. However, you should look for a firm that has additional credentials such as affiliation with industry groups such as NonProfitCPAs (also known as CNAP). The firm's audit professionals should also be certified by CNAP or other industry or trade groups.


Education and training – Not-for-profit accounting is constantly changing. In order to stay up-to-date with the latest regulatory and tax reporting requirements, firms should have a consistent, documented policy on continuing education and training.


Right size, Right fit – It's important to select the right size audit firm. National firms often boast of resources, but those resources can come at a hefty cost and often times the work is delegated to offices/personnel across different states. Experienced local firms can offer the same resources at affordable rates. A local firm's employees are typically near your area, allowing them to be more available, responsive, and aware of your local environment. This means they can easily stop by your office in person to walk through issues.

Free from Conflicts of Interest – Part of the due diligence process in selecting an audit firm should be investigating the audit services firm for any possible conflicts of interest. This should include, but not be limited to - potential ties to management or board of directors; relationships with vendors or competitors.


Peer reviewed – Accounting firms that perform attest services (i.e audits, reviews and compilations) must be subjected to an "audit" of their own, referred to as a "peer review". The peer review can better be described as, a review of the accounting firm's processes and procedures to ensure that the firm performs quality attest work. Firms are issued a peer review report, which may be requested and reviewed before engaging a firm. Ensure that a firm's peer review report contains no deficiencies that would prevent them from performing quality work for your Organization.


References and reputation – An important component of the due diligence process should be speaking with references in the not-for-profit industry. Be sure to speak with your peers in the industry and ask them about a prospective audit firm's reputation and standing.


Firm Longevity – How long has the firm been in business? An audit is only as credible as the firm that is performing it. You should seek a firm that has multiple decades of experience in not-for-profit accounting and audit services. Their staff should consist of experienced, seasoned audit professionals.


Support for the community – An audit or CPA firm that works in a community, should give back to the community. They should have a track record of supporting not-for-profits in their community. Ask the firm about its philanthropic giving and its involvement on not-for-profit boards of directors.


Trusted adviser – Seek out a firm that will not only perform vital audit functions, but also provides guidance to management and staff. Look for a firm that understands and supports your mission. Your audit firm should deliver value far beyond the audit itself, and should provide sound operational suggestions and guidance.
Do you have questions about selecting a not-for-profit audit firm? Are you actively seeking a firm to perform your organization's audit? Speak with a Zinner & Co. audit professional.