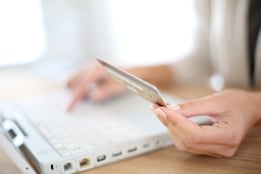 Q: I'm concerned. I was sure I paid my income tax this year when I filed, but I have just received a call from someone saying they are an authorized IRS collection agent and I need to pay a small balance now due ($350). The agent said I should pay by prepaid debit card. What do you recommend?
- Bailey J., Private Business Owner
Akron, OH
A: Eric James, Staff Accountant says:
Thanks for your question Bailey. You are not alone in your confusion and I am glad you turned to our firm for answers and clarity. It is difficult to keep up with latest tricks of today's savvy scammers and more so, to know which communication methods are legitimate. Our team stays on top of the most up-to-date information through the IRS and we are happy to pass along the tell-tale signs of a scam:
The IRS (and its authorized private collection agencies) will never:
Call to demand immediate payment using a specific payment method such as a prepaid debit card, gift card or wire transfer. The IRS does not use these methods for tax payments. The IRS will usually first mail a bill to any taxpayer who owes taxes. All tax payments should only be made payable to the U.S. Treasury and checks should never be made payable to third parties.


Threaten to immediately bring in local police or other law-enforcement groups to have the taxpayer arrested for not paying.


Demand that taxes be paid without giving the taxpayer the opportunity to question or appeal the amount owed.


Ask for credit or debit card numbers over the phone.
For those taxpayers who do not owe taxes and do not have a reason to think they do:
Do not give out any information. Hang up immediately.


Contact the Treasury Inspector General for Tax Administration to report the call. Use their IRS Impersonation Scam Reportingweb page. Alternatively, call 800-366-4484.


Report it to the Federal Trade Commission. Use the FTC Complaint Assistanton FTC.gov. Please add "IRS Telephone Scam" in the notes.
For anyone who owes tax or thinks they do:
If you have questions about this article, tax related fraud, taxation, or your business, contact me at ejames@zinnerco.com or any of our tax professionals at 216.831.0733 or info@zinnerco.com. We're happy to help and ready to start the conversation.