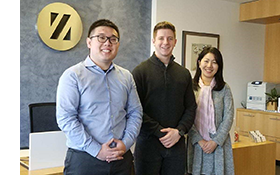 Zinner & Co. is proud to introduce our new 2020 tax season interns. We hope this snapshot of them will help you get to know them, as some of our clients will be receiving communications from our interns, as they will work on tax returns this season.
Allen Li
A student at Case Western Reserve University, Allen wanted to intern with an accounting firm where he could learn from professionals.
He has found the staff and partners at Zinner & Co. to be very professional, helpful and nice during the busy tax season.
"Plus, the office looks absolutely stunning," Li added.
Initially an undergraduate student at State University of New York at Stony Brook, majoring in business management/finance, he became interested in accounting when he took his first accounting class as a core requirement for his degree. He enjoyed the course and decided to take other accounting courses.
"About two accounting classes later, I decided to apply for the MACC Program at Case Western Reserve to pursue 150 credit hours," he said.
A world traveler, Li really likes the people who live in northeast Ohio.


Brett Carney
Carney currently attends Case Western Reserve University. The Pittsburgh native wanted to intern at Zinner & Co. because he felt the firm's size would give him one-on-one attention with seasoned CPAs, while simultaneously providing him the opportunity to explore a vast portfolio of clients.
"Zinner & Co. has been around for over 80 years; obviously something works and I wanted to be a part of that," he said.
Accounting runs in his family, as Brett's mom and step-dad are both accountants. Following the fall semester of his freshman year of college, he told them he would never become an accountant.
"I guess I ate my words on that one," Carney said. "The accounting industry became interesting once I realized there is an infinite amount of accounting positions in industries, which fit the needs for anything I could ever want to do."
He is currently a member of the CWRU football team, where he plays fullback. He also has a dog (bichon frise) named Cici.

Kyoko Tosi
Tosi graduated from Kent State University in December and wanted to intern at an accounting firm who works with individual and small business clients. She met Zinner & Co. representatives at college events and during the ensuing interviews, Kyoko found them to be very friendly and professional. She really likes the people and culture at Zinner.
She became interested in accounting when a friend asked her to do bookkeeping for her small business, and Tosi really enjoyed it. From there, she decided to go to school and earn an accounting degree.
For her, accounting is about problem solving.
"I enjoy accounting as if I am solving puzzles," Tosi said.
Outside of accounting, she loves to spend time with her two children.
"My son plays ice hockey and my daughter is a swimmer," Tosi added. "Whenever I have the chance, I love going to their games and meets. They give me energy and help me stay active!"