Zinner & Co. is pleased to support Accelerate, an event being held by long-time Zinner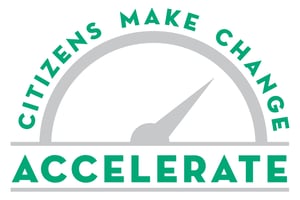 client, The Cleveland Leadership Center.
Accelerate, which is billed as a "pitch contest," is an opportunity for young, aspiring community leaders and entrepreneurs to present their ideas to improve their community. Contestants' ideas and presentations will be evaluated by local civic, and business community leaders. Contestants have an opportunity to win seed funding to help bring their idea to life. In addition to a chance at the $5,000 top prize, contestants are also connected with local mentors and leaders who can help them make their plans a reality.
Zinner & Co. Partner, Sue Krantz is serving on the Host Committee for the event. "The event is a great opportunity to support our community. The contestants are visionaries, who will shape the future, and it's a pleasure and an honor to be involved." stated Krantz.
Event Details
February 27, 2019
Global Center for Health Innovation
1 St. Clair Avenue NE
Cleveland, OH 44114
Pricing
$30 CLC Members
$35 General public + CLC alumni
$20 Students (does not include drink ticket)
Timeline
5:00 p.m. Doors open
5:30 p.m. Category pitch competitions
6:30 p.m. Reception
7:00 p.m. Finalist presentations & awards
In addition to purchasing tickets to the event, attendees can also donate to help support young leaders in the community. For more details and ticket information, please visit https://www.cleveleads.org/events/accelerate/.
About CLC
Cleveland Leadership Center provides collaborative leadership training, civic education and connections to leaders of all ages, empowering them to identify and take action on issues that resonate with them and positioning them to become change agents in the community. The Center educates, connects, inspires, and engages leaders of all ages to drive positive community change through six key programs, as well as customized offerings and events.