Your organization's website can be one of your greatest assets or a HUGE liability. It's largely a factor of how much effort you put into building and maintaining it.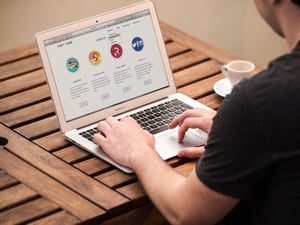 Your website should be like a round-the-clock salesperson or fundraiser, but only if you follow best practices and put time and attention into developing and maintaining it.
The following are 10 tips to help you improve your website:


Mobile-ize your site - More than half of all website traffic comes from mobile devices such as smart phones and tablets. It's one of the most important ranking factors for search; in fact Google looks at your site's mobile version before it looks at the desktop. Your site should have a responsive design that allows your site's content to display well on small devices. If your site can't be viewed well on mobile, users will abandon your site and Google will penalize you for your site's lack of a mobile version.


Make it Simple – One of the most common mistakes people make when designing their site is making it far too complicated. You have less than 5 seconds to capture someone's attention and convince them that your site is the one they're looking for before they leave it. Your sight should have simple, logical navigation and should make it easier for visitors to know how to take the next step. Contact information such as phone number, address (if you have a physical presence and want people to come there) and contact names should be prevalently displayed.


Think: 'What's in it For Me?' – All of the information on your site should be developed from the customer's point of view. Always ask yourself, "What does the customer want? How can I make his/her life better?" Much of the 'What's in it for me?' information can be learned from frontline personnel who deal with the client on a day-to-day basis.


Start (AND MAINTAIN) a blog – Websites serve two primary constituencies - website viewers and search engines – a blog can serve both. Blogs are a great way to provide answers to the questions that are driving prospects and customers to visit your site. The more relevant content you have on your site, the better Google likes it. So blogs are a way to add lots of content while maintaining clean, straight forward navigation and site organization.


Make it consistent – Website visitors and search engines both like fresh, relevant content. For this reason you should make frequent, consistent updates to the website. If the most recent update to your website in dated in 2015, site visitors may wonder if you're still in business.


Make it interesting – Websites need to be interesting and visually engaging. You have seconds to capture a visitor's interest before he/she leaves. If your site is unattractive and dated, visitors may think your website isn't relevant and click away before you've had an opportunity to engage them.

Your site should have lots of visual elements. Pages should have no more than two font types. Use paragraphs, bulleted and numbered lists on the site to improve readability.


Make your site consistent with your organization's brand – Your website should look, feel and sound like your brand. Your sites branding and voice should be consistent with the way you present yourself. If your website isn't consistent with your brand, visitors can be confused and may believe they're on the wrong site.


Create multiple calls-to-action – A "call-to-action" is usually a visual cue to visitors to take an action (e.g. download now, sign up now, contact us, schedule a call.) Typically, you should have one call-to-action per page and a different call-to-action for each offering (or family of offerings, if you have many.) The call-to-action on a page should directly relate to the content on that page. Studies show that sites with 40 or more calls-to-action vastly outperform those with less than 40.


Make it personal – Make your site personalized. When possible, use real photos of your employees rather than stock photos. Humanize your brand by having your employees write articles for your blog featuring their name and photo. If permitted by your clients, include their photos and tell their story (be sure to get a written release before doing this and make sure you are not violating any regulatory statutes.) Some content management systems (CMS) allow you to use personalization tokens which can allow you to tailor content to a specific individual.


Make it fast – Site speed is a rating factor that all of the major search engines evaluate when ranking a page. Sites that are slow to load provide a poor user experience and are likely to be penalized by search engines.

Be sure to use lower resolution images on your site and if possible use compression to make your site's pages load quickly and cleanly. Most CMS platforms have compression tools or add-ons that you can use to speed up your site.
Have questions about how to make your website one of your greatest assets? Contact me.