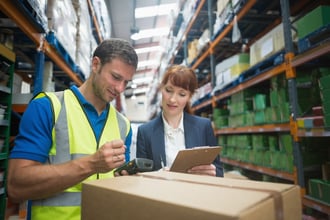 For many companies, keeping close tabs on revenue, expenses, and profit is the number one priority. However, companies that carry inventory may not realize its direct effect on profitability. This effect is known as shrinkage. Shrinkage is the excess amount of inventory (in accounting records) that no longer exists in the actual inventory. In other words, it is a loss of inventory. There are several causes of shrinkage, such as:
Theft- from employees, management, or customers
Fraud- at times, from suppliers, where the bill may not match the amount of items shipped
Abuse- excess use, where there is a lack of standardized amount used
Damage- resulting from the failure to properly protect goods or products from physical damage
Spoilage- occurring from the lack of a strong and consistent system to monitor perishable product expiration dates
Waste- commonly occurs when a company is not utilizing the full potential of the product
Ensuring a company has identified the risks associated with its inventory and has a solid inventory control plan to mitigate those risks will not only reduce shrinkage, but also help to improve profitability and strategic decision making for long-term sustainability. Let's take a closer look:
Profitability
Shrinkage due to an insufficient inventory control environment can obviously increase the company's expenses and other far reaching and less obvious costs. Costs can then either reduce profit margins or create the need to raise prices. Some products may not withstand a price increase in the current market. Higher prices can harm customer relationships and loyalty, which have the potential to affect other goods or products produced by the company.

Download our FREE Internal Controls Checklist
Strategic decision-making - long-term sustainability
When a company operates in a weakened inventory control environment, the value of decision making inputs is diminished. Companies simply cannot make accurate strategic decisions such as:
Which products should be discontinued or promoted
What constitutes a realistic benchmark level
How to best allocate human and infrastructure resources, and,
How to manage and negotiate with vendors to ensure proper budgeting
Next steps – solutions
It is nearly impossible to eliminate all risks facing a company's inventory; however, there are several ways to mitigate risk and therefore reduce shrinkage. Each control integrated into the inventory system varies based on the type of business. Below are 11 ways to improve the inventory process:
Utilize a perpetual inventory system. This system will update inventory accounts after each transaction. Barcode scanners connected to inventory software is the most effective method.
Perform inventory counts frequently. Inventory counts should be conducted daily, if possible, for some industries such as restaurants. Many companies ought to conduct inventory counts before opening or after closing, but at minimum, once each week before placing any orders. Do not perform inventory counts during shipments or sales, as items may be overlooked or counted twice.
Use inventory count sheets with standardized measurements for each item, with the units included.
Ideally, two people should perform inventory counts together. Each should count the items separately while supervised, then, the results should be reconciled for discrepancies. A recount may be necessary.
Lock away high dollar value items, such as expensive food items, expensive merchandise, items with high resale value or items that have other in demand uses.
Keep security cameras on and around all areas where inventory is stored, and make sure your employees know the cameras are there. Up-to-date and automated video security can be expensive and may not always be necessary, however, even if the cameras are not working, the presence will still send a message to employees that inventory is monitored.
Obtain receipts for shipments and ensure their agreement to purchase orders and invoices.
Weigh in inventory using scales before accepting deliveries. Be sure to calibrate scales regularly.
Maintain consistency through standard procedures. If the First-In, First-Out (FIFO) method is used as opposed to Last-In, First-Out (LIFO), then ensure procedures are in place so these methods are adhered to on a consistent basis.
Segregate expensive items (under locked and monitored locations) and restrict access to that inventory to only a limited number of authorized personnel. Also, ensure that inventory is well organized. Just the visual ability to identify proper inventory levels and locations can be a key factor in deterring shrinkage
One may even consider tracking waste and saving empty containers to monitor consumption.
The implementation of inventory control is not without cost. Every business should factor the cost versus benefit of the implementation of each new procedure or layer of control and take a good look at which method will be an effective inventory control investment to protect the business.
Any business that depends on the sale of products or the consumption of supplies ought to at minimum, have a basic inventory control process in place. Unfortunately, many seek help to create an inventory control system after discovering loss, theft, or internal misconduct.

We frequently counsel clients about the importance of inventory controland help companies implement simple adjustments. Our staff of CPAs and management consultants guide clients seeking to create and maintain a sound process of inventory control that will ultimately improve the tracking of goods and flow of cash in and out of the company.

If you would like to learn more about inventory control or if you have questions about your business, contact me at cvalponi@zinnerco.com or any of our professionals at 216.831.0733. We're happy to help and ready to start the conversation.