Your organization's website should be one of your most valuable assets. It's like a 24/7/365 salesperson that is constantly generating new sales leads and customers. However, if your website isn't designed with mobile, you'll be lucky if anyone sees it at all.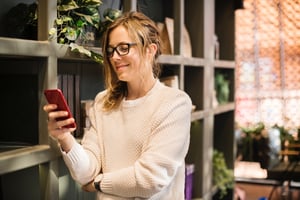 The proliferation of mobile devices has changed the way companies approach the architecture and content of their websites. Ignore mobile, and you do so at your own peril. Here are 5 reasons why:
Search Engine Optimization – Your website has two primary constituencies that it should serve – website visitors and search engines. When it comes to search engines, Google is the 800 pound gorilla in the room, with over 88% market share. For some time, Google has been moving to "mobile first indexing" for ranking website search results. In laymen's terms, Google looks at the mobile version of your site first, and if you don't have your site optimized for mobile, you won't perform well in search (for mobile or desktop!)


It's How Your Site is Viewed – More than half of all website views occur on mobile devices (as high as 68% for ecommerce sites) and that percentage is growing annually. If you want your website to be viewed, you need to create a website that embraces best practices related to mobile. On a desktop with a large screen, visitors must see what they're looking for on a site, presented in a clear and logical way, or they immediately leave. On a mobile device, users form an opinion on your website within 50 milliseconds (that's .05 seconds!)


Marketability – If your site isn't mobile friendly, users are 87% less likely to share its content with others. That means fewer people will send email, texts and instant messages about you and your site. The less your site is shared, the less "social currency" your site has. This is a ranking factor used by search engines to determine how popular and important your site is. Another important ranking factor is "stickiness." That's how long do people stay on your site once they land there. If your site isn't easily viewed on mobile and people click off right away, your site isn't going to be considered "sticky" enough, and isn't what viewers are looking for.


Do you email people? – Email marketing is a great tool. Did you know that 59% of all emails are opened and viewed on mobile devices? This means that links and other marketing assets you share will most likely be viewed on a mobile device. This is one of the leading causes of email list unsubscribes. Unless you want to be treated like a spammer, you need to optimize your emails and website for mobile.
If you haven't refreshed your website lately, or haven't optimized it for mobile, you should definitely budget time and resources to its redesign. If you have questions about what you should include in your site's redesign, feel free to contact me.