Each year, Zinner & Co. hires interns to work during tax season alongside seasoned professionals to deliver accurate tax returns and provide insightful advice. Zinner & Co. invests a significant amount of time and resources recruiting, training, and mentoring the college interns…and it's completely worth it! Here are a few really important reasons why we do it: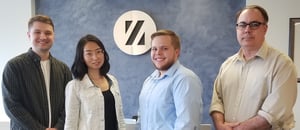 They are the future of our industry – Today's interns are tomorrow's CPAs and industry leaders. How well they do in their future roles is largely determined by how they are trained, taught and mentored today. Hiring a class of interns each year allows us to contribute to the future of our industry.


It helps us learn – Joseph Joubert famously said: "To teach is to learn twice." Training and mentoring interns allows our staff to think about their craft in new and different ways. Interns' "newness" to the industry means that they ask questions in different, thoughtful and often insightful ways. This forces us to think about the way we communicate with employees, clients and our industry peers.


It provides us with an opportunity to identify and recruit outstanding talent – The employment market for skilled accountants is very competitive. By hiring interns, we are able to identify, hire and train great people. Recruiting is substantially easier after someone has been exposed to your organization's culture and understands the way you work. Zinner's unique culture is one of our best selling points and many of our best employees were formerly interns at Zinner.


It helps students learn about public accounting careers – A life in public accounting isn't for everyone. Working under the pressure of tight deadlines isn't for the faint of heart. It's better to learn early on if you're not a good fit for public accounting and it allows students to redirect their efforts towards other areas of accounting where they may find a stronger potential fit. For those that do find a good fit in public accounting, they find it to be a lucrative and rewarding profession.


It keeps our firm young – There is great value in tapping into the energy and inquisitive nature of young, budding professionals. Their energy is infectious and benefits everyone during a very hectic time of year. Gaining experience managing and working with "Gen Z" also helps Zinner prepare for the next generation of clients and employees.
We would like to thank all of the members of our most recent class of interns. They were a bright group that have great promise and potential for careers in public accounting. We hope to see them return for next year's tax season.
We would also like to thank our staff for taking time to train, guide and mentor this year's interns. They showed us, yet again, what makes Zinner such a remarkably special place.
If you are an accounting major who is interested in an internship at Zinner & Co. during next year's tax season, we'd love to hear from you.