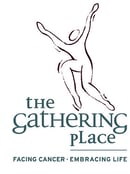 Thanks to the generosity of sponsors and donors, including Zinner & Co., the 2020 Virtual Race for the Place raised $352,155!
The Race is The Gathering Place's largest annual fundraising event.
All of the money raised through the Race for the Place will help to ensure The Gathering Place is able to continue to offer programs and services free of charge.
Adam Ross, Chief Development Officer for The Gathering Place, said there was uncertainty about how the community would respond when the event transitioned from a physical race to a virtual race due to the COVID-19 pandemic.
Ross called the response truly inspiring.
Zinner & Co. is a proud sponsor of the Race for the Place.
On June 7, which is National Cancer Survivor day, The Gathering Place held a parade instead of their normal race. TGF founder Eileen Saffran, who retired last year as the organization's CEO, was the grand marshal. The parade allowed people to celebrate, while observing social distancing guidelines.
Zinner & Co. invites you to watch a short video created by The Gathering Place, which thanks all participants and donors, who helped them raise over $350,000.
Please save the date for the 2021 Race for the Place, which will be held on June 6, 2021.