A longtime member of the Zinner & Co. family will retire at the end of the year.
Patti Puterbaugh joined Zinner & Co. LLP in Oct. 2000 as the File Room Clerk. Since then, she has made a lasting impact on the firm.
From the onset, she showed a willingness and desire to learn new things and to take on greater responsibilities. This initiative and drive resulted in Patti gaining a larger role within the organization, as she began to assist the Office Manager with administrative tasks.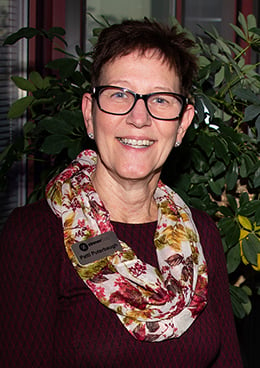 Less than two years after joining Zinner & Co., Patti became the firm's Billing Administrator.
During her tenure in this role, she worked tirelessly to help move the company forward.
In 2014, Patti assisted in a major Time and Billing Software conversion. It was in her caring nature to help ease the staff's concerns about the conversion process. One day, when trying to reassure a co-worker the process was working, she coined the phrase, "It's not scary!"
Over the remaining course of the project, she regularly repeated the phrase to help encourage everyone the process would turn out as planned – and she was right.
Since the day she began her career with Zinner & Co., Patti has been attentive to detail and willing to help anyone.
"Patti always worried more about our clients and her coworkers than she ever worried about herself," said Partner Brett Neate, CPA, M.Tax, at Zinner's recent holiday luncheon. "She is truly a good person."
During her 21 years at Zinner, Patti was more than just an employee, she was part of the family.
"As a partner group, we owe a debt of gratitude to Patti for making sure our business has run smoothly and profitability for the past 21 years," said Managing Partner Robin Baum, CPA. "Patti's retirement is bittersweet. While we wish her all the happiness in the next chapter of her life, we will miss her very much!"
Upon retiring, Patti plans to spend more time with her husband Lee and her grown children Josh and Mandy. Patti and Lee are planning to travel, and will remain busy with their Labrador puppy, Zoey.
On behalf of the entire staff, we thank Patti for being such an integral and important part of our Zinner & Co. family. We wish her nothing but happiness and good health in her retirement!