Zinner & Co. played host to a benefit fundraiser for the College Now Greater Cleveland's "Bag Lady" event scheduled for Thursday, September 12, 2019 at the Great Lakes Science Center.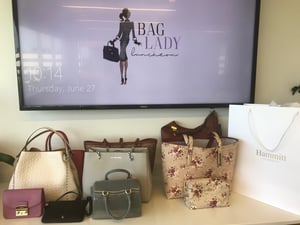 Guests were treated to hors d'oeuvres and cocktails and were entered in a raffle to win a FOUNT handbag. Proceeds from our event will be used to help purchase designer handbags for auction at College Now's premier fundraising affair.
College Now Greater Cleveland is an organization whose mission is to increase post-secondary education attainment through college and career access advising, financial aid counseling, and scholarship and retention services. It is the largest in Ohio, and one of the leaders across the nation. College Now Greater Cleveland has served as a model and best practice for other organizations across the country, and issues approximately 1,100 scholarships annually.
Zinner & Co. would like to thank everyone who participated and helped to make our event a success. If you are interested in supporting College Now, please consider donating at their website.