Zinner & Co. is proud to announce the launch of our new website.

Launched on Nov. 9, the new site provides visitors with important information about our firm, along with the services we offer and the specific industries we serve. Do not worry – we still offer comprehensive accounting, audit, tax, and management consulting services – but with a better website!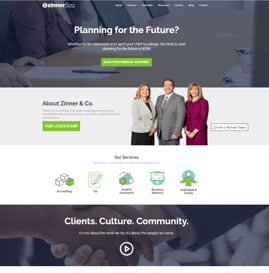 Visitors will find the new website to be user friendly, with easy navigation to find desired services, industries and assets for information.

The site still contains most of the resources Zinner & Co. clients use most often, like the online bill pay feature, a secure file exchange, the ebook library, and multiple financial calculators.

The clean, crisp look of the website complements the firm's brand and reflects the environment of our headquarters.

The new Zinner website is fully mobile and device responsive, allowing our clients and friends to use a variety of products and browsers to easily interact with and traverse through the site.

The new website is an investment in our future and ensures our digital footprint will be easily accessible for all.

On behalf of Zinner & Co. Partners Robin L. Baum, Susan D. Krantz, and Brett W. Neate, we invite you to explore the site and discover how Zinner & Co. is committed to providing solutions to help our clients succeed.

Remember, we are always here to help you. If there is something you cannot find on the website, please feel free to complete the online Contact form and a Zinner representative will reach out to you.